Please welcome the incoming 2019-2020 NMUPA Officers!
President: Cheri Jordine
Vice President: Shannon Ratkey
Treasurer: Kelly Fry
Recording Secretary: Denise Richards
Corresponding Secretary: Sandra Carson Price
REMINDER – Please order your Mums! Deadline for orders is Monday, September 16th! We will be collecting final orders this Saturday at the football game. Please not that the delivery date has been corrected to TUESDAY, SEPTEMBER 24th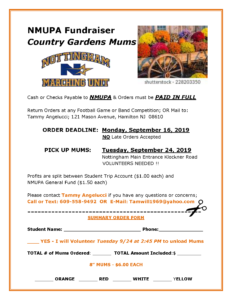 Check out this years show Mana Tiki!!! This one is going to give us the best season Nottingham has ever had!!!!
Check out this amazing documentary on NMUPA by Alessandro Rivero!
Check this out!! Free players Drum and Bugle Corps – All Special Needs Adults